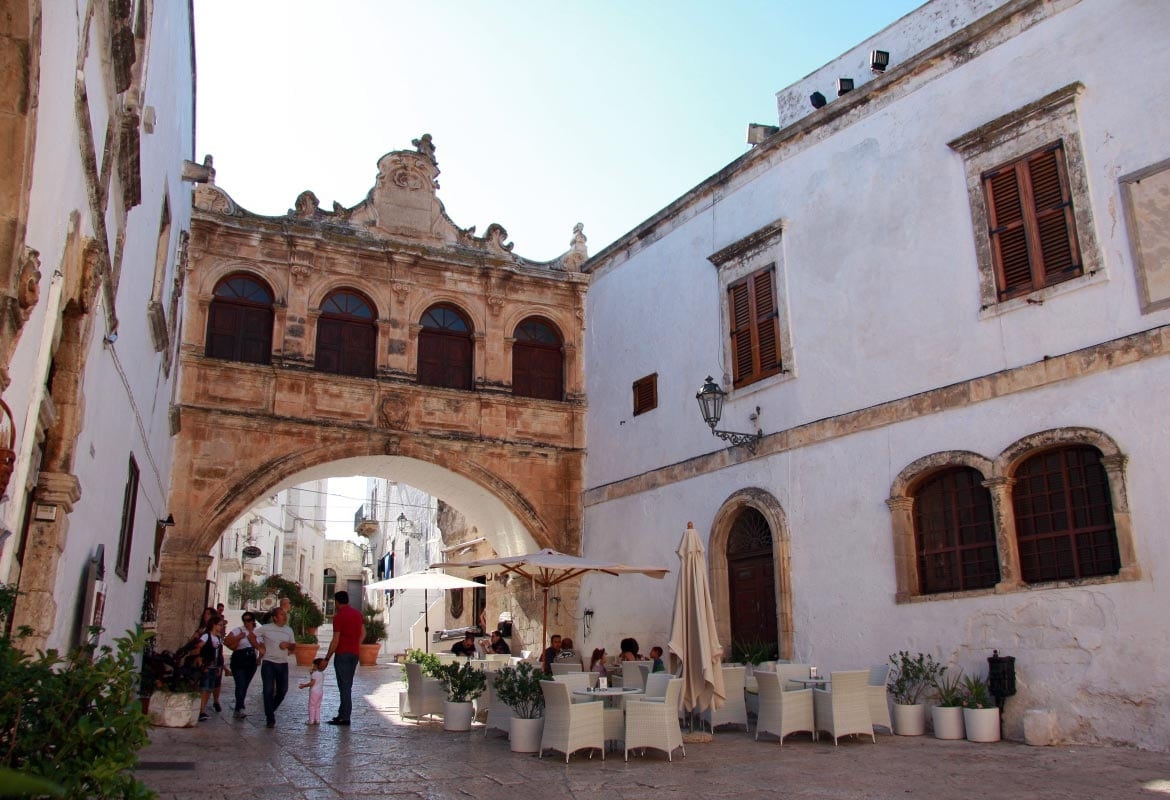 Visit Ostuni
Ostuni is a beautiful city in southern Italy. Its charming white houses spread out over the top of three hills and offer great views over the sea below.

Explore Ostuni
A maze of streets and alley ways lead you through the narrow streets of Ostuni. The bright white buildings and jewel bright skies not to mention the many views of the Adriatic Sea which is just 8km away give Ostuni more the feel of a Greek than an Italian city. Not too suprising perhaps since it is only 70km from Greece and, like the rest of southern Italy was once part of the Greek empire.

With its hilltop location the gleaming white city of Ostuni can be seen from miles around and even if it wasn't on your route you will be drawn to it once you have spotted it. You won't be disappointed. As you enter the outskirts you are rewarded by the sight of some of the unusual trulli cottages that dot this area. With their conical roofs and white walls they look like something from a fairy-tale.

Onwards into the old town and the streets meander and twist upwards to the 15th century cathedral built in Gothic style.

As you wander through the streets you will notice that nearly all the doors are painted in shades of blue, turquoise and green and many of the simple Greek style houses have ornate Baroque details added to windows or doors.
At the heart of Ostuni is the Piazza della Liberta with its statue of Sant Oronzo reputed to have saved Ostuni from the plague in 1657.

Ostuni's main monuments
The main monuments to see are the cathedral, the Bishop's Palace and the church of San Vito Martire.

- The cathedral has a very unusual shape with concave and convex lines. It also has a lovely rose window with 24 carved sections representing the hours of the day.
- The Bishop's Palace was built in the 16th century and has an ornate bridge connecting the palace to the Cathedral cloisters.
- The San Vito Martire is a very ornate Baroque style chuch built in the late 18th century.

From the northeastern edge of town you get magnificent views over the sea and a large expanse of ancient olive trees.

Olive oil tasting tours are particularly popular with visitors as the olive oil here is of a particularly fine quality and the ancient olive groves are well worth seeing.

Ostuni is a popular town with summer visitors but it also has the 5th largest British population in Italy!

The last few days of August are a good time to visit as the town celebrates the festival of San Ostuni and there is a large parade of horses and riders dressed in red sequined outfits. The parade is popular so get there early to find a good position.